Swedish inventors are behind a surprising amount of common objects used throughout the entire world, from electric refrigerators to the adjustable spanner.
List of Swedish inventions in chronological order:
Adjustable spanner (Johan Petter Johansson, 1892)
Ball bearing (Sven Wingquist, 1907)
Blow torch (Carl Richard Nyberg, 1881)
Celsius thermometer (Anders Celsius, 1742)
Dynamite (Alfred Nobel, 1867)
Milk separator (Gustaf de Laval, 1878)
Modern packaging (Ruben Rausing, 1950)
Modern refrigerator (Baltzar von Platen, 1920's)
Modern telecommunications (Lars Magnus Ericsson, 1876)
Pacemaker (Rune Elmqvist, 1952)
Plumber wrench (Johan Petter Johansson, 1888)
Portable stove (Frans Wilhelm Lindqvist, 1892)
Safety match (Gustaf Erik Pasch, 1844)
Ship propeller (John Ericsson, 1826)
Three-phase electric power (Jonas Wenström, 1880)
Tungsten (Axel Fredrik Cronstedt, 1751)
Zippers (Gideon Sundbäck, 1913)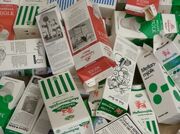 Ad blocker interference detected!
Wikia is a free-to-use site that makes money from advertising. We have a modified experience for viewers using ad blockers

Wikia is not accessible if you've made further modifications. Remove the custom ad blocker rule(s) and the page will load as expected.